It is believed that St. Thomas the Apostle of the East and India arrived Kerala while his 2nd visit through the trade route of the Jewish merchants ships at Crangenore in AD 52. He established the congregation namely Crangenore, Oalayur (Trichur dist), Paravur (Ernakulam dist), Niranam, Kokkamangalam (Allepey dist), Kollom (Kollam dist), Nilakkal (Pathanamthitta dist).

The majority of the locals are Dravidians including Jain, Budhist, Jews & Brahmins were impressed and surprised by his preaching's and holy power. The Brahmins those who are doing the Tharpanam, the Apostle asked them whether they can hold the water in the air. They were unable to do so because it is against the rule of gravitational force. But the Apostle did it and the water remained in the sky and at the same time a trough was formed on the surface of water.

Perceiving the superior power of the Apostle, four Brahmin families embraced the faith of Christianity. These four Brahmin families who accepted baptism were Pakalomattam, Kalli, Kallinkel and Sankarapuri. Of them Pakalomattam and Samkarapuri were given the sole right of priest hood.
The Pakalomattam Brahmins were given the chief priest position and the ARCHDEACONS are from Pakalomattam family. It is believed that a major portion of the four Brahmins converted families, migrated to KURAVILANGAD in the 4th century AD, some say it was exactly 337 AD.
From 13th century onwards large scale migration took placed in the Pakalomattam family. This was largely due to a belief developed that a thing which impure by "Theendal" could be purified by a touch of Nazrani Christian. Hence all royal families and Brahmin families took a Christian each from Pakalomattam root and accommodated them near their house. Thus one of the Pakalomattam family member came to THIRUVALLA and established the KAVILAE VEEDU.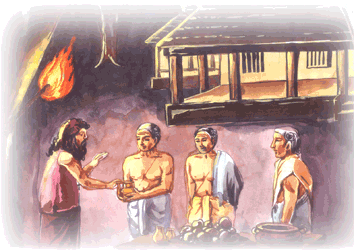 After the years, the roots and branches of THIRUVALLA KAVILAI VEETTIL FAMILY spread all over to near by areas with different house names as given below.

| | | |
| --- | --- | --- |
| | House name | Places |
| 1 | Mathillingal | Thiruvalla |
| 2 | Chittettu | Thiruvalla |
| 3 | Kayappuram | Thiruvalla |
| 4 | Thannikkal | Thiruvalla |
| 5 | Kuttikkadu | Karakkal |
| 6 | Palakkaparampil | Karakkal |
| 7 | Panikkaru Veedu | Karakkal |
| 8 | Kanekkadu | Karakkal |
| 9 | Vadakkedom | Thumpamon |
| 10 | Chittedathu Thumpamon | Thumpamon |
| 11 | Thiruvalla Veedu | Allepuzha |
| 12 | Kuttikkadu | Niranam |
| 13 | Kattakkayam | Pala |
| 14 | Kavilai Veedu | Edathwa |
Now Kavilai Veedu multiplied to many folds and spread across the globe.